Has there been a year so equally despised among the masses?  I cannot summon one from my own recollection (of course, there was a time before social media when it was more difficult to take such a poll on a mass scale; how many of you actual remember that time?  Anyone?  Anyone?  Bueller?).  Still, this year has been hard on many (though I hope the privileged of us realize it is all on a scale of relativity.  All after, I may complain below – spoiler alert, I'm gonna a little – but I realize that at the end of the day I go to bed grateful.  I have a roof over my head, fresh food on the table.  I have a job that pays the bills and a hubby and family who love me.  I do not live in constant fear of oppression or in fear for my own life.  The rest, as they say, is trivial).
Still, it has not been all daisies and roses (by which I mean Snickers Ice Cream Bars and Shocktarts – which aren't even called Shocktarts anymore… don't even get me started on this tangent).  It has been a year of contrast, though the scale has hardly felt balanced at times.  As I take the time, sitting here wrapped in my warm blankets and my light pink toque as the weather finally offers a hint of fall tidings, I realize perhaps it was not as bad as I have bemoaned these past few weeks as I carried the war cry of the internet.  If anything, it is the uncertain future we must strive to better for all of us, not just ourselves.  So, without further ado, a year in contrast as seen in hindsight:
I lost a family member but gained a new family.
My home was violated, but it survived the wraith of Matthew's fury.
I became disenfranchised with our justice system (which has felt more this year like a criminal system), but was thankful for the few shining stars in the force that helped brighten one of our dark times.
I never got to leave the state, having every single one of our planned vacations cancelled due to unforeseen circumstances.  I did, however, learn to appreciate the simplicity of time away from work in what my hubby (let's just call him Zach) lovingly refers to as a 'staycation'.
I did not get to hit in trails in either Yosemite or upon the AT, but I did explore the natural beauty I have lived near for so long but never appreciated.
And – perhaps most importantly of all, as any bibliophile who reads my reviews can understand – even my reading choices this year left much to be desired.  I'm ending the year with a string of DNFs and left a trail of 1 and 2 star reviews in my wake behind me.  But at least my displeasure with the literature allowed me time to work on my own writing, finishing one manuscript and brainstorming far more than I'll ever have time to write.
In the end, life is what we make of it.  It is short and often fickle, but it is how we define these moments along the way that define us.  I take away lessons from this more difficult than average year.  I strive for better, to make it better, instead of waiting for it to come to me.  Instead of sitting here and John Olivering the year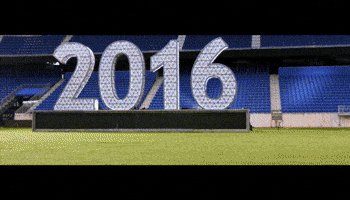 I'm going to take the Emily Gilmore approach

Credit to Vanity Fair
If it did not bring me joy in 2016, then I'm leaving it behind at the stroke of midnight (well, let's face it, more like 10PM because I'm old and married and don't have to stay up with half-lidded eyes anymore to kiss at midnight.  That's a young kid's game).  I will enjoy 2017 will a reckless abandon (well, okay, maybe not reckless and maybe not abandon, but the sentiment is the same).  I will be the change I wish to see.  I will make 2017 all it can be.  After all, there's no where to go but up (Dear Karma Forces of the world, for the love of God, PLEASE do not take this sentence as a challenge, I'm begging you).
Enjoy the final hours of this year.  It only comes once.
"But wait!" you exclaim. "What about your New Year's Resolutions?"
Ugh, do I have to?  While I do try to make Resolutions, they are more mental checklists and suggestions than anything else.  Anything more than that feels like commitment, and starts edging its way towards my long list of phobias.  But, if you must know, here are a few of my musings for next year:
A Year of Cooking Light – those who enjoy the cooking portion of my website, you're in luck!  While not a steadfast challenge (Zach says if we stuck to it religiously he'd wither away before the end of the year because he is somehow the one who always loses the weight), my goal for 2017 is to try to cook from the Cooking Light cookbooks (thank you library.  Have I mentioned how awesome the library system is?  Use it!  Support it!  Love it!)  for every meal I prepare.  This was the year of monthly challenges.  While I'll still have those next year, I also want to try a long game goal.  So we'll see!
The AT – I'm not saying I'm ready to hike it (I'm most certainly not), but I want to see it.  Breathe it, take it in.  I want to touch my feet upon its dirt and make sure it's something I really want to do (this was something that was supposed to happen this year; 2017 is, in part, a makeup year for all the travel I did not get to do this year).
Yosemite.  It's happening, folks.  I don't care if I have to  Uber there, I am going to sleep under the Milky Way at some point in the next 365 days.
I want to visit at least one other National Park we haven't seen yet (talk about long game challenges/bucket list items)
I'm going to publish a novel this year.  With an agent would be stupendous.  Self publishing is fine too.  We all have to start somewhere.

And last but not least, I'm going to read books that don't suck.  PLEASE, PLEASE, PLEASE leave your recommendation(s) in the comments below.  I LOVE recs.
Good tidings to all ❤  Be safe and full of joy.